By John C. Toman. Posted August 23, 2011, 9:15 AM.
---

Temperatures are rising this week in what will be the hottest weather since the first week of July in Southern California's inland valleys.
Current predictions are for a multi-day warmup, peaking on Thursday or Friday, followed by a cool-off that should start Sunday or Monday.
The heat wave is due to high pressure over the mid-west expanding westward, and pushing out a persistent low pressure trough that had been hovering over the west coast.
WeatherCurrents.com Meteorologist Jim Purpura adds, "We've been pretty lucky so far this summer, with a large, hot dome of high pressure settling well to the east over Texas and Oklahoma. A few times this summer the dome has shifted or expanded west, pushing a persistent, cool trough of low pressure out into the Pacific. This is in the process of happening right now."
High temperatures for Thursday and Friday are predicted to be north of 105°F in communities such as Lake Elsinore, Wildomar, Menifee and Hemet. Predictions for Temecula and Riverside will likely lead to the first triple digit days of the year in those communities.
High pressure was also expected to suck monsoonal moisture into the region Friday and Saturday. The current forecasts call for isolated thunderstorms over the mountains and deserts, with the most clouds and the best chances for rainfall on Saturday. Thunderstorms were not expected to cross west of the mountains.
The humidity follows on the heels of former Hurricane Greg's remnants, which passed through the region this past Sunday and Monday, leading to mostly just some high clouds. Greg was at hurricane strength over the Pacific Ocean earlier last week.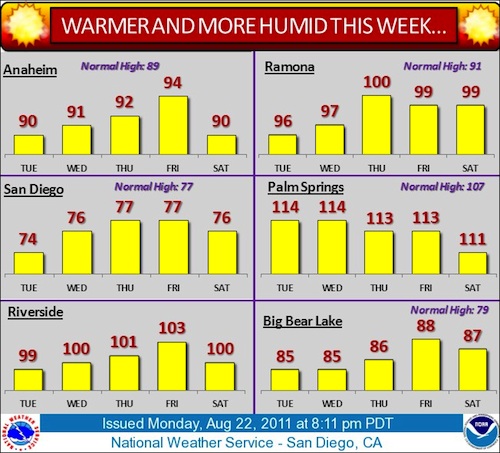 Predicted temperatures this week (National Weather Service)