By John C. Toman. Posted July 22, 2011, 6:28 PM.
---

A brush fire that started Thursday evening swiftly charred a large area of the Los Coyotes Indian Reservation, east of Warner Springs, on Highway 79 South, in San Diego County.
The fire was about 15% contained at 6pm Friday evening, according to CalFire.
Satellite photos provided by the National Weather Service show the smoke plume blowing to the northeast, across the desert to the Salton Sea area.
The fire itself was burning to the east, away from any populated areas.
According to news reports, the fire was burning in remote terrain, which was hampering efforts to fight it. Two cabins were threatened.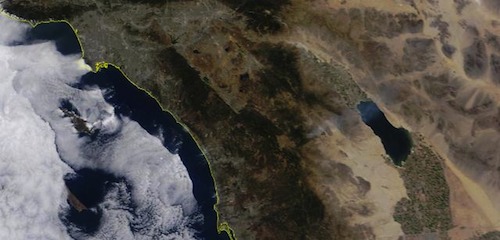 Smoke plume from Eagle Fire (courtesy National Weather Service)
Other Recent Weather News for WeatherCurrents