By John C. Toman. Posted August 21, 2011, 2:34 PM.
---

WeatherCurrents' Murrieta and Menifee locations received new weather equipment Saturday as part of an equipment replacement program.
Both locations have been upgraded from Peet Bros. Ultimeter 2000 to Ultimeter 2100 systems, and have received the newer and improved Ultimeter Pro Anemometer (wind sensor).
The larger cup anemometer is being used at most WeatherCurrents weather stations today. It's capable of registering wind speeds as low as 2mph; the older anemometers were not sensitive below 5 mph.
In addition to improved accuracy, the newer wind sensors have proven to be more reliable
As of Sunday, Murrieta's forecast is now being written separately. The Murrieta forecast had been tethered to Temecula's since the site went live in 2003. Although Murrieta's climate is very similar to Temecula's, Murrieta is often a couple of degrees warmer, especially during the summer months.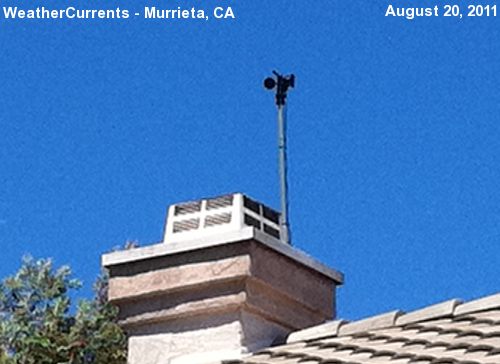 Ultimeter Pro anemometer in Murrieta (© 2011 WeatherCurrents)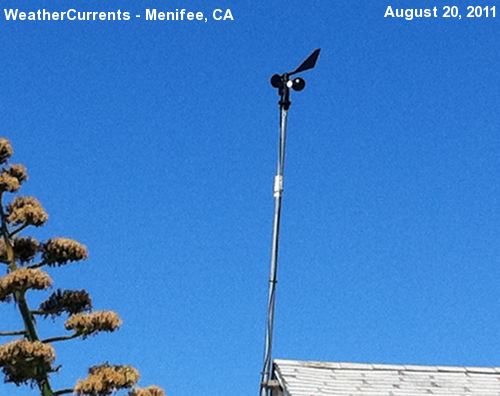 Ultimeter Pro anemometer in Menifee (© 2011 WeatherCurrents)