Posted December 21, 2010, 12:48 PM.
---


Before the start of each month, NOAA's Climate Prediction Center publishes a prediction for the month and for the next three.

Since there is a strong La Nina condition persisting in the equatorial Pacific, the forecast was for a warmer, drier than normal December.

So much for that.

Instead, thanks to one monster, unrelenting storm, we probably will have record rainfall for many inland valley communities for the month of December. Rainfall to date is double to triple normals for December.

And we're not done yet. A colder front is on the heels of the current one, and poised to come through the region tomorrow, with unstable air, convection and a chance of thunderstorms and maybe some hail. It should pad already high totals.

In addition, there's a chance of light rain or showers following Christmas Day.

The CDC actually listed the chances of below normal rainfall for December at 33%. Likewise, the chances of above normal temperatures was 33%, except for along the coastline.

A La Nina condition means that sea surface temperatures are cooler than normal in the ocean along the equator. Cooler temperatures reduce the chances of the type of storm we're currently receiving, which is laden with sub-tropical moisture; but it does not eliminate them. An El Nino condition, in contrast, increases the chances of "pineapple express" storms.

Here's what's normal for the month of December, by selected communities, along with December rainfall through noon on Tuesday:
Location
Normal
precip.
Month
to date
precip.
De Luz
2.88"
9.86"
Fallbrook
2.82"
5.44"
Hemet
1.73"
3.90"
Lake Elsinore
2.00"
8.09"
Menifee
1.66"
3.81"
Murrieta
2.47"
5.40"
Temecula
2.12"
5.94"
Note: normals are used for communities with five or more years of data.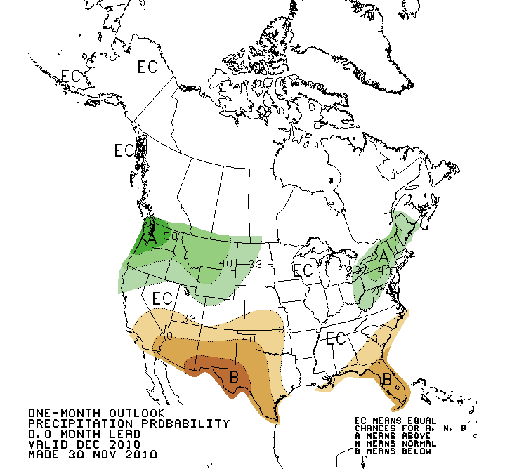 Other Recent Weather News for Lake Elsinore, California