By John C. Toman. Posted May 23, 2012, 7:36 AM.
---

As temperatures fall rapidly from last weekend's hot weather, we're watching a low pressure system developing for this Friday.
Some light showers are a possibility, depending on how much moisture Friday's system ends up bringing with it.
But unseasonably cool, cloudy weather, deep marine layer and some drizzle can be expected.
"This storm is very strong for this time of year," said WeatherCurrents' meteorologist Jim Purpura. "If the storm had more moisture and was a bit more unstable we could see a severe event, much like we had on May 22, 2008, with thunderstorms. But it now looks like the best chances for thunderstorms will be well to the north, over the San Joaquin and Sacramento Valleys."
On May 22, 2008 a storm featured thunderstorms and downpours, and culminated in a tornado. The twister was the strongest on record in Southern California, touching down in Perris near March Air Reserve Base and tossing railroad freight cars around.
Current forecasts for Friday are calling for cloud, temperatures in the 60's, drizzle, and a tenth of an inch or less of rainfall for Southern California's coasts and inland valleys. It will be very windy in the mountain and desert areas.
Based on the current models, and the predominantly dry air, "it will be hard for this upcoming storm to make much rain," Purpura said.
Late May, June and July normally constitute the driest period of the year.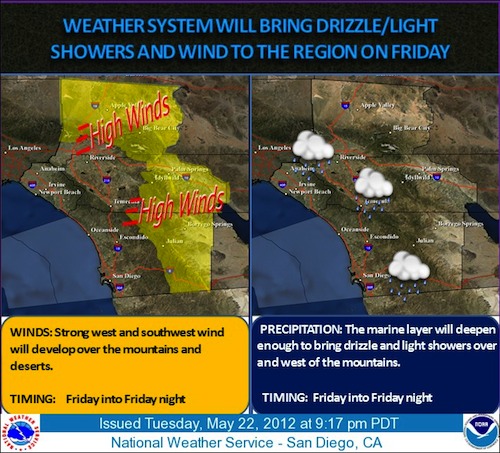 Late season system arrives Friday. Courtesy of National Weather Service.
Other Recent Weather News for Jurupa Valley, California