By Jim Purpura and John Toman. Posted January 14, 2012, 3:18 PM.
---

A low pressure area which has been parked off the coast west of San Diego the past few days will begin move onshore this weekend. As it does, it will yank some moisture northward and bring a chance of scattered showers across Southern California's inland valleys on Sunday.
The rain will the first of 2012, and will signal the end of what's been a long dry period that's dominated the winter so far in the region.
In fact, this particular cutoff low was one of the causes of our most recent dry, windy period on Friday, drawing northeast winds from a surface level high in the Great Basin area.
Rain amounts are forecast to be less than a tenth of an inch, but due to the showery nature of the precipitation, totals could vary widely.
Unsettled weather will continue into Monday.
Most locations will see a warmup beginning Tuesday and continuing into the week. There's a good chance of a stronger storm system next weekend, as the jet stream sags southward across the area.
It's been several weeks since the last rain in Southern California. The last storm traversed the region on December 18th and 19th, and left less than a tenth of an inch of rain across the WeatherCurrents network.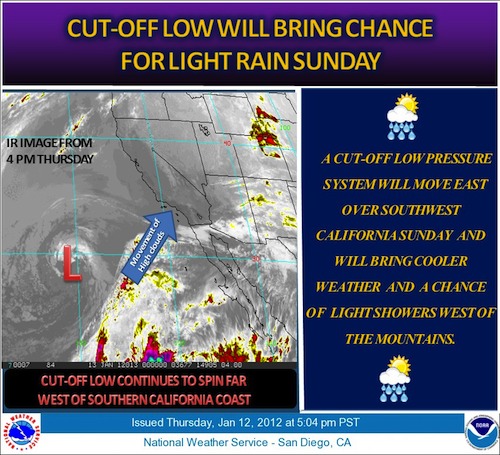 Light storm arriving (courtesy National Weather Service)