By John C. Toman. Posted December 21, 2011, 2:00 PM.
---

Following last Friday's wind blast through Southern California's inland valleys, surface level high pressure is poised to make conditions problematic again.
Current forecasts are calling for wind gusts of up to 70 mph in the most prone locations like the Cajon Pass by Thursday evening. Under the passes and canyons, winds could reach 40-50 mph, with 20-40 mph possible elsewhere.
As a result, the National Weather Service has issued a High Wind Warning, for Thursday morning through Friday afternoon.
In some areas, the winds, if they materialize as predicted, will have potential for dust storms, downed trees and power lines, among other hazards, similar to what happened in the San Jacinto Valley last Friday.
Winds are predicted to diminish throughout the day Friday.
Persistent surface level high pressure over the Great Basin has potential for weaker offshore winds over the Christmas holiday weekend.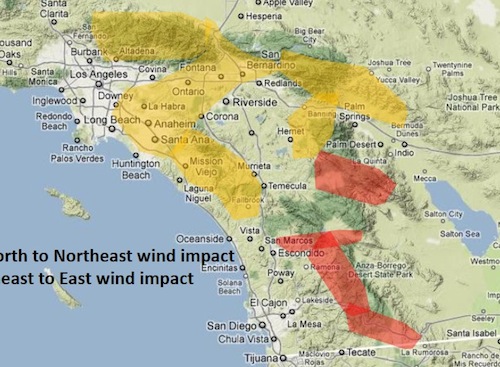 High wind potential for Thursday (courtesy National Weather Service)
Other Recent Weather News for Jurupa Valley, California