By John C. Toman. Posted December 4, 2011, 1:53 PM.
---

Sunday morning was the coldest in many months in Southern California's inland valleys, especially in Southwest Riverside County. Temperatures at some WeatherCurrents locations fell into the 20's.
The dry, clear air, conducive to radiational cooling, was made possible by an inside slider system, the second of a series of three low pressure systems. The first sent wind blasts through the upper Los Angeles basin and the San Gabriel Valley on Wednesday and Thursday, causing power outages and widespread damage. Wind from the second system was blowing robustly through the inland valleys yesterday.
But the night was relatively calm, and temperatures fell. The lowest temperature in the WeatherCurrents network was in Beaumont, checking in at 25°F. Wildomar was next at 27°F, followed by Murrieta and Menifee at 28°F. Freezing temperatures were also recorded in Lake Elsinore (30°F), Perris (30°F), French Valley (31°F) and Temecula (31°F).
Riverside (37°F) and San Bernardino (37°F) were cold but above freezing, as were nearby Jurupa Valley (36°F) and Moreno Valley (36°F). Hemet (Valle Vista) was also above freezing at 35°F
The warmest locations were to to the south in Fallbrook (40°F) and De Luz (40°F), both of which are normally frost-resistant except in the coldest conditions.
To the west, WeatherCurrents's Simi Valley station recorded 38°F Sunday morning.
Frost will again be possible Monday morning, according to the latest predictions, in some locations. Temperatures on Monday morning are forecast to be only a degree or two warmer.
More offshore wind, set to kick up tonight or tomorrow morning, might help keep the incidence of frost down to just wind-sheltered areas, however.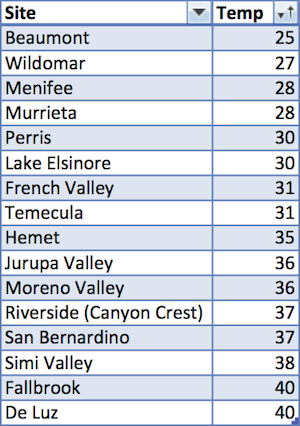 Sunday morning temperatures (© WeatherCurrents)