By John C. Toman. Posted November 13, 2011, 11:26 AM.
---

Southern California caught one side of a storm that slid down the west coast this week, with most of it going into Mexico. Rain totals were widely variable across Southern California's inland valleys, ranging from 0.05" to 0.81" locally.
WeatherCurrents' westernmost station in Simi Valley recorded the highest totals for this storm, at 0.81". Nearly half an inch of that came Friday night, well before rain reached the other inland valleys.
Next in line were the southern stations: Fallbrook (0.60"), De Luz (0.57") and Temecula (0.57").
Bringing up the rear for this storm was Moreno Valley, with just 0.05". Beaumont also had a very low total (0.07"), although there's a yet to be confirmed 1.13" that may have fallen early Sunday morning which could dramatically change the storm total there.
Before the storm, rainfall predictions had been cut to a quarter of an inch or less west of the mountains. Those totals ended up being accurate for much of the area, but the second band of moisture led to significantly more rainfall in the southern areas.
In the Inland Empire Saturday, there were two major bands of showers. One came through between 5am and 9am Saturday, and the other Saturday afternoon, between 1pm and 7pm. In the Riverside and San Bernardino metropolitan areas, the afternoon band led to very little precipitation. In areas like Temecula and Fallbrook, it accounted for the majority of the rainfall.
A week of mostly sunny weather is now predicted, before the next storm arrives perhaps next Saturday.
The following rainfall totals were recorded Friday night through Sunday morning:
| | | | |
| --- | --- | --- | --- |
| Location | Storm | Season | Source |
| Simi Valley | 0.81" | 2.40" | WeatherCurrents |
| South Fallbrook | 0.60" | 2.33" | WeatherCurrents |
| South Fallbrook - Canonita | 0.59" | 2.24" | R.C. Blankenhorn |
| De Luz | 0.57" | 3.06" | WeatherCurrents |
| South Temecula | 0.57" | 2.22" | WeatherCurrents |
| Temecula Valley Wine Country | 0.53" | 2.17" | Jim Sappington |
| East Hemet | 0.33" | 2.35" | WeatherCurrents |
| Northwest Murrieta | 0.31" | 1.46" | WeatherCurrents |
| Wildomar | 0.26" | 1.50" | WeatherCurrents |
| Lake Elsinore | 0.25" | 2.22" | WeatherCurrents |
| French Valley | 0.25" | 1.67" | WeatherCurrents |
| East Murrieta | 0.25" | 1.33" | Reginald Stanley |
| East San Jacinto | 0.18" | 2.44" | Monty Parrott |
| San Bernardino | 0.13" | 2.25" | WeatherCurrents |
| Riverside - Canyon Crest | 0.13" | 1.72" | WeatherCurrents |
| Menifee | 0.13" | 1.39" | WeatherCurrents |
| Perris | 0.09" | 1.36" | WeatherCurrents |
| Beaumont | 0.07" | 2.25" | WeatherCurrents |
| Moreno Valley | 0.05" | 1.76" | WeatherCurrents |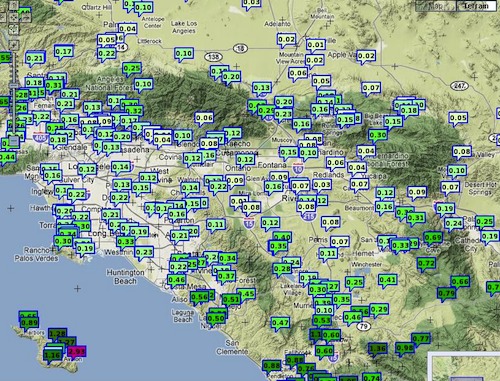 Inland storm totals (courtesy National Weather Service)