By John C. Toman. Posted August 21, 2011, 3:36 PM.
---

Past the middle part of the summer season, with only minor heat waves to date, 2011 stubbornly remains below normal.
"The dome of high pressure that's been over the great plains for much of this summer could be responsible for the cooler than normal summer on the west coast," said Jim Purpura, WeatherCurrents' meteorologist.
Persistent high pressure there has tended to block high pressure systems along the west coast.
What's happened instead is that low pressure troughs have camped out on the west coast for much of the summer. "On occasion, when the high pressure dome over the midwest has expanded westward, the low pressure troughs retreat, giving us a few minor heat waves," said Purpura.
Purpura theorizes that this year's La Nina has had an effect. "La Nina dried out the midwest region. Dry weather then led to heating of the dry ground, drying out the air more...and can help make these Great Plains heat waves self-reinforcing," he said.
The last major heat wave in Southern California's inland valleys occurred on September 25th-27th, 2010. On the last day of that heat wave, Temecula recorded 111°F for the hottest inland valley temperature; that community has not been back above triple digits yet this year. Other communities have, however, although less frequently than normal: Lake Elsinore and Wildomar (20 times), Menifee (12 times), Perris (8 times), Moreno Valley (6 times), Hemet (5 times), Murrieta (4 times), San Bernardino and Beaumont (3 times), and French Valley (1 time). Riverside, Jurupa Valley, Simi Valley, De Luz and Fallbrook, like Temecula, have yet to record any days above 100°F.
John Hunneman, with Southwest Riverside's The Californian newspaper, also documented the non-arrival of summer this year.
Will we escape this summer without a major heat wave? No major heat waves are in the latest forecasts. However, recent history suggests we will not; major heat can arrive as late as October.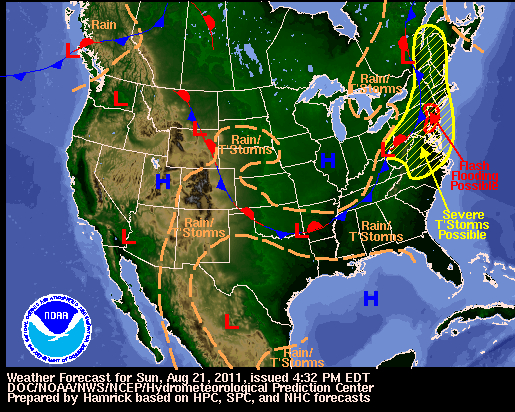 Low pressure over the southwest; high pressure over the midwest: August 21, 2011 (National Weather Service)
Other Recent Weather News for Jurupa Valley, California