By John C. Toman. Posted July 25, 2011, 10:02 PM.
---

Another round of low pressure along the west coast will lead to a cooler middle of the week in Southern California's inland valleys, pushing monsoonal moisture south for a few days and vanquishing the high clouds.
Cooler will still be warm; it is summer, after all. Tuesday and Wednesday high temperatures will be near 80°F in Fallbrook and De Luz, the middle 80's in Temecula, Murrieta and out in Simi Valley, the upper 80's to lower 90's in Riverside, San Bernardino and Hemet, and the middle 90's in Lake Elsinore, Wildomar and Menifee.
Morning low clouds at the coast will be more extensive, and may extend further inland on Wednesday. Otherwise, clear skies will be the rule.
High pressure, subtropical moisture is currently targeted to return this weekend. Thunderstorms will again be possible over the mountains and deserts Saturday and Sunday.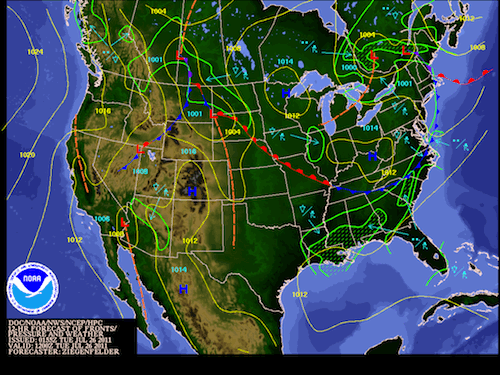 Weather fronts on Tuesday, July 26th (courtesy of National Weather Service)
Other Recent Weather News for Jurupa Valley, California