By John C. Toman. Posted July 17, 2011, 1:34 PM.
---

With the weather see-sawing between cooler than normal and hot so far this summer, the next week offers an almost normal experience in Southern California's inland valleys, according to the latest forecasts.
For the first half of the week, inland temperatures will rise to near normal, perhaps a little under normal, as low pressure weakens and that big high pressure system over much of the rest of the nation asserts itself locally.
Normal means 100°F in areas like Lake Elsinore and Wildomar, the upper 90's in Menifee, Hemet and Perris, the middle 90's in Riverside, Moreno Valley, Jurupa Valley and San Bernardino, the lower 90's in Murrieta, Temecula and French Valley, and the middle 80's in Fallbrook and De Luz.
Lots of sunshine is predicted. The areas closer to the coast, such as Fallbrook, could see a little morning marine layer. A brief shot of monsoonal moisture is expected Monday, and that could lead to only isolated showers in the mountains and deserts. No thunderstorms are predicted west of the mountains.
Temperatures will do a slow fade in the second half of the week, falling back to under normal.
At WeatherCurrents' stations in the inland valleys, July to date has been cooler than normal, continuing a long trend dating back to last year, and bucking the general outlook for this summer. Through the middle of July, high temperatures were between two and four degrees less than normal.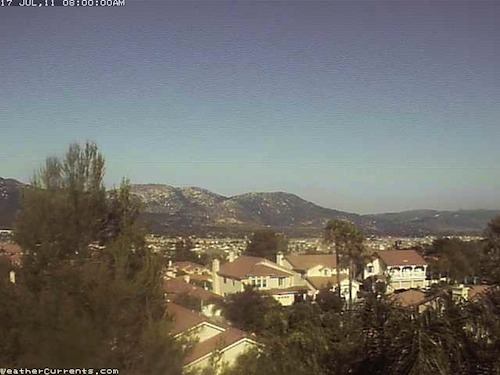 Mid summer morning in Temecula (© 2011 WeatherCurrents)
Other Recent Weather News for Jurupa Valley, California