Posted July 11, 2011, 12:16 AM.
---

Well, it will though at least Friday in Southern California's inland valleys. Following a week of subtropical moisture, sticky heat, and isolated thunderstorms, the current forecast calls for a cooling off period, lasting from Sunday through Friday.
A low pressure system sitting of the west coast can be thanked for this week's trend, which will give us a break from the warmer weather that started out the month. Onshore flow will lead to drier airflow as well.
Deeper marine layer is predicted, too, and it will crawl further inland as temperatures cool, especially Wednesday and Thursday. Those two days will the coolest of the week, with inland temperatures only in the upper 70's to lower 80's in places like Temecula, Riverside, Hemet, San Bernardino and Simi Valley. Fallbrook will only reach the lower 70's, and Lake Elsinore and Wildomar will be warmest, in the middle 80's.
By early next week, monsoonal moisture, a summer weather staple, is expected to return to Southern California, and hotter temperatures will return with it.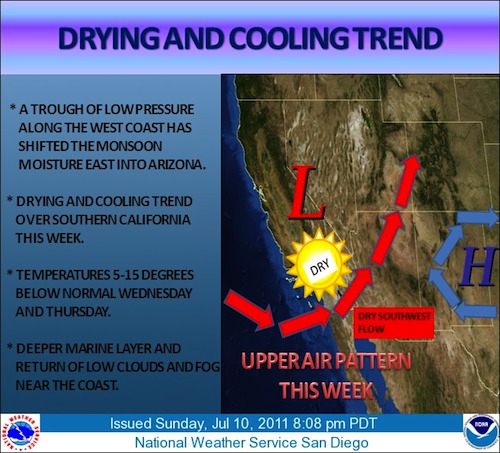 July Cooling and Drying Trend (courtesy National Weather Service)
Other Recent Weather News for Jurupa Valley, California