Posted May 17, 2011, 7:54 AM.
---


A cold, late season storm is poised to bring a couple of rounds of showers to Southern California's inland valleys Tuesday and Wednesday, along with gusty winds, cloudy skies and much cooler than normal temperatures.

The first front is predicted to blow through mostly on Tuesday morning, bring with it a wave of light to moderate showers. Showers will be fewer and scattered in the afternoon.

The second front will arrive sometime tonight, renewing the shower activity into Wednesday.

Totals from the both the fronts are currently expected to be up to a half of an inch, and could be higher in some communities and lower in others. The rainfall from this storm, if as predicted, would be more than in a typical May, and would continue to pad what has been the wettest season since 2004-2005. The rain season runs from July 1st through June 30th.

Snow levels will fall to around 5,000 to 5,500 feet Tuesday night, and some accumulation above 7,000 feet is possible.

Winds will be stronger on Wednesday, and could gust to 25-30 mph in inland communities. They'll be even stronger in the mountains and deserts.

A follow-on storm is on the horizon for Sunday, but looks to be much weaker than this one.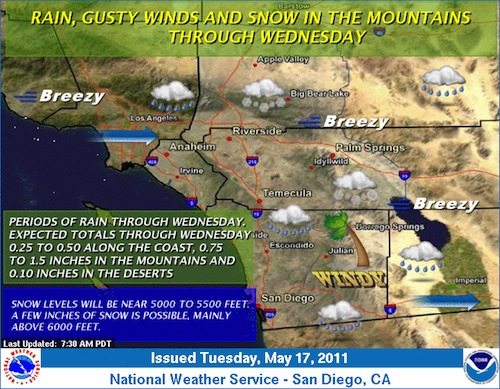 Mid-May Storm (courtesy of National Weather Service)
Other Recent Weather News for Jurupa Valley, California