Posted March 23, 2011, 12:30 AM.
---


Another couple of storms are set to pile on to what has become a wet end of the month. The jet stream is still churning through our area and directing systems into Southern California. The pattern isn't predicted to break through the end of the month, with another system arriving every couple of days.

The first storm is currently expected to roll on through Wednesday evening and night, with light to moderate rain. Rainfall totals are forecast to be between a quarter and a half of an inch in the inland valleys. Snow levels will fall to around 4,000 feet.

The second storm will quickly follow, by Thursday night. It will drop up to another third of an inch of rainfall. Showers from the second system are predicted to trail into Friday night. Snow levels will rise to above 4,500 feet.

"The second system will likely be weaker than the Wednesday night storm, " said Alexander Tardy, a meteorologist with the National Weather Service. "The areas of precipitation will be short [in] duration (8 hours or less) for both events. Locally heavy rainfall in south facing foothill areas and in heavier showers that last 1 hour or less."

Two more storms are a little deeper in the forecast: Saturday night, and Tuesday night. A chance of showers is currently predicted for both of those days. Weak offshore flow should mark the period in between.
Forecast Precipitation, March 24th (courtesy National Weather Service)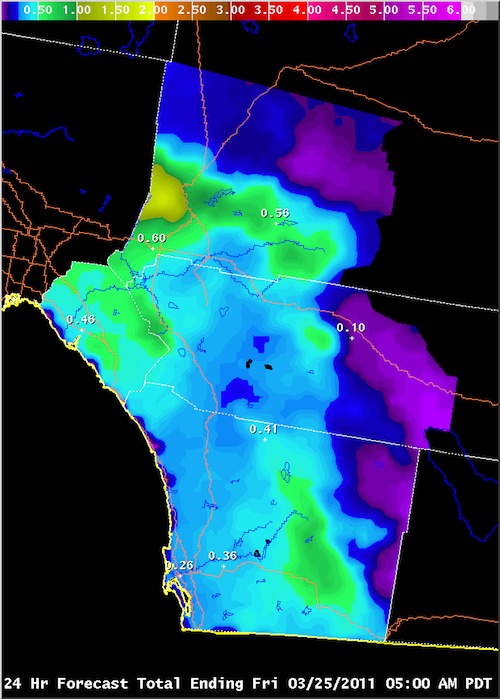 Forecast Precipitation, March 25th (courtesy National Weather Service)
Other Recent Weather News for Jurupa Valley, California