Posted March 18, 2011, 6:16 PM.
---


A two-pronged storm this weekend will leave up to an inch and a half of rainfall in Southern California's inland valleys, transforming what's been a dry March into something of a normal one, at least from a rainfall perspective.

The first wave Saturday is just expected to be some showers, with the main part of the storm arriving Sunday afternoon and night. Saturday's rainfall shouldn't be more than a tenth of an inch. Heavy rain is expected Sunday evening, with showers trailing through Monday.

"This is a very intriguing storm,â?? said Mark Moede, a meteorologist with the National Weather Service. "Winds will be strong Sunday evening and night ahead of the cold front in all areas. Strong enough for some shallow rooted, old trees to fall. Some power outages are possible if they happen to fall on power lines." Winds gusts of 20 mph or more are predicted.

Predictions for Sunday night through Monday morning show the heaviest rain in the north, from Lake Elsinore on up to San Bernardino and Beaumont, where 1.5" of precipitation are forecast. Rainfall amounts are expected to drop to the south and east, down to about an inch or so in Temecula, Murrieta, Fallbrook, and Hemet.

Normal rainfall for the entire month of March is between half and inch to just over an inch in the inland valleys. The outlook before the month called for a 33% chance of drier than normal conditions.

The storm's origins are in the Gulf of Alaska, and the jet stream will drop south to send it our way. A wide swath of California will be affected by the twin fronts. The forecasted rainfall charts show Central California getting the main energy of the storm; the central coast could get upwards of four inches through Sunday night.

The Spring equinox, coincidentally enough, is 4:21pm on Sunday.

According the latest forecasts, snow levels will fall to 5,000 to 5,500 feet on Sunday, down to about Idyllwild's level in the San Jacinto Mountains, or down to Mt. Palomar's levelto the south. Three to seven inches of snow are predicted about 5,000 feet.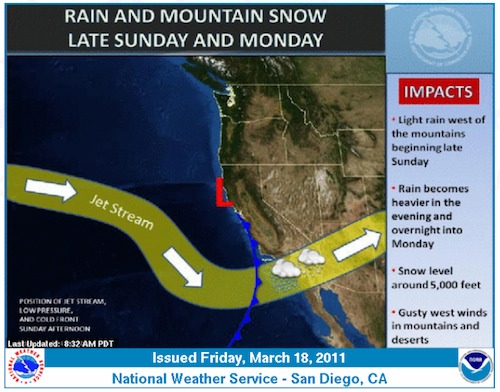 First storm of Spring, 2011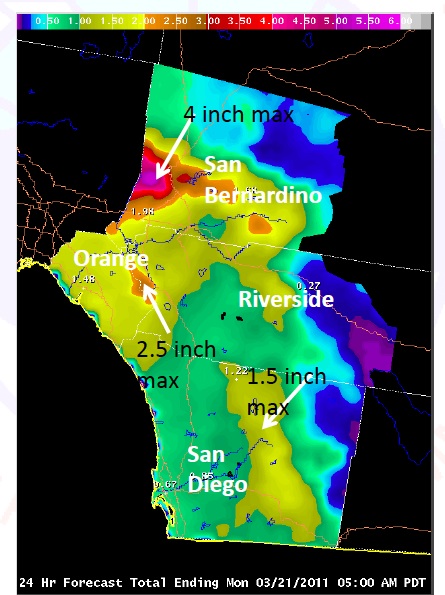 Precipitation forecast (courtesy National Weather Service)
Other Recent Weather News for Jurupa Valley, California