Posted March 6, 2011, 8:56 PM.
---


The southern part of a winter storm will tease the inland valleys with some light rain, drizzle and potentially gust winds before exiting Monday afternoon.

As of Sunday night, drizzle was already active in some inland spots, and it was expected to continue. Scattered light showers were occurring in the 8pm hour, with San Bernardino registering a hundredth of an inch.

The best chances for measurable rain will be early Monday morning, when the jet stream moves south over the area and raises the marine layer. But total rainfall is predicted to be around a tenth of an inch or less, with only very light amounts falling the in deserts.

The National Weather Service has a high wind watch in effects for the mountains and deserts. The windiest remote spots will gust to over 60 mph Monday morning.

Longer range forecasts have the rest of the week looking dry and mild, with the next storm arriving around March 15th.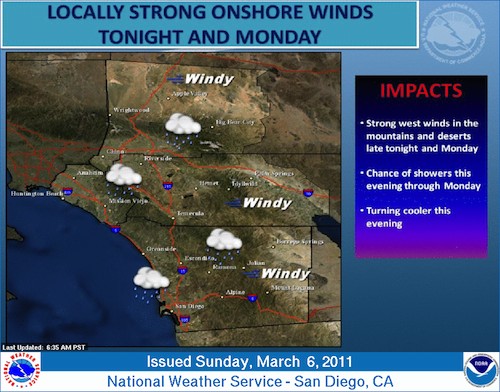 Light scattered showers, drizzle and winds (courtesy of National Weather Service)
Other Recent Weather News for Jurupa Valley, California