By John C. Toman. Posted August 14, 2012, 6:49 AM.
---

As part of this past weekend's wild weather, more damage was reported Monday in Sun City and in the Temecula Valley Wine Country, with microbursts the likely culprit in both cases.
The microbursts were in addition to one previously reported in northeast Temecula Saturday afternoon that blew down a couple of fences.
In Sun City, James Bromar reported damage near Foxfire and Flagler. "I would estimate the wind [at] approximately 65 to 70 mph as the trees and shrubs were whipping back and forth tremendously."
The damage in Sun City included downed tree limbs, a tree snapped at the base, roofing material torn off, downed rain gutters, and an antenna thrown from a roof. Saturday's storm brought about a half an inch of rainfall to the immediate area. WeatherCurrents' Menifee station, just 1.5 miles way, only received 0.04".
In the Temecula Valley Wine Country, roof panels were torn off a new tasting room at the Calloway Winery, according to a Californian news story. The roof panels landed in nearby vines.
Lightning also struck a Hemet house during the same series of storms on Saturday afternoon.
Microbursts are a form of straight line winds, characterized by a strong downdraft.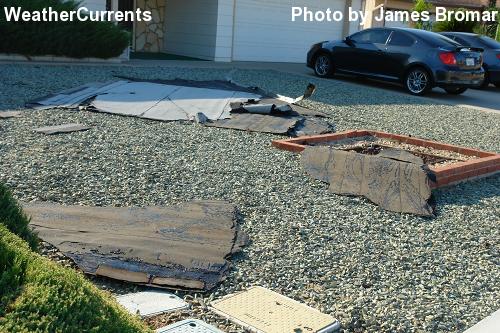 Microburst damage in Sun City. Photo courtesy of James Bromar.