By Jim Purpura. Posted July 22, 2012, 11:07 AM.
---

Forecasters were holding hope that a storm system moving from the tropics would bring us monsoon thunderstorms Monday and Tuesday. The weather system, called an "easterly wave", moves into California from areas to the southeast, like Texas and Mexico. Over warm tropical waters, such as the Atlantic or Gulf of Mexico, waves like these can be the first stage in development for tropical storms and hurricanes. Over land, however, they will normally mean an increased chance of summer thunderstorms.
As of this morning, forecasters at the National Weather Service are not so sure about the chances of thunderstorms in our area. While the wave could move our way, it now just looks to affect the mountains with afternoon showers and storms, particularly Monday and Tuesday. The low seems to be weakening, and an area of low pressure pushing down the coast from Washington may swing the wave back to the northeast and away from southern California.
The bottom line for this upcoming week: very warm to hot through Tuesday, then cooling Wednesday through Saturday to near or even a bit below normal temperatures. Thunderstorms will be confined to the mountains and nearby foothills.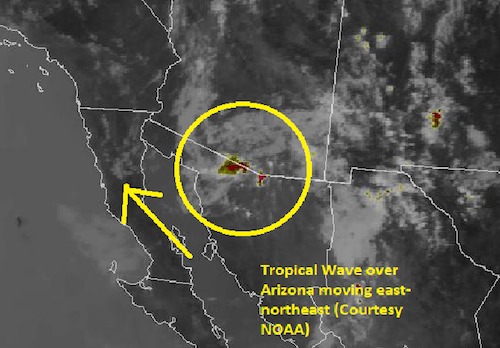 Easterly wave over Arizona. Photo courtesy of NOAA.
Other Recent Weather News for Jurupa Valley, California