By Jim Purpura. Posted March 18, 2012, 6:04 PM.
---

We have had quite a few reports of hail in the Vail Ranch area of Temecula early this morning, and thanks to those who wrote in to WeatherCurrents and sent images.
But some folks have told us that it snowed in the area, especially when they saw the "white stuff" on the ground this morning. So what's the difference?
Snow falls as a six-sided crystal. It develops at temperatures about 25 degrees or colder in the clouds and is below freezing while falling. It falls relatively slowly, and is silent and "fluffy" as it comes down, unless it is mixed with rain when the surface temperature is at or above freezing.
Sleet falls when the rain produced by a cloud falls into a layer below freezing, and essentially is frozen rain as compared to freezing rain, which is a liquid drop that freezes on contact with the ground.
Graupel, on the other hand, is actually a type of small hail from a shower or thunderstorm. It forms when a cold rain drop is caught in the updraft of a shower or thunderstorm, usually when temperatures are cold at the surface, but above freezing. The raindrop is pushed above the freezing level by the updraft and freezes solid. The frozen drop falls to the ground, often as a small pellet.
Both sleet and especially graupel can be noisy as they fall. Last night some area resident described the hail fall as "loud, could be heard anywhere in the house", as it bounced off clay and cement tile roofs, and windows.
Adding to the noise was the fact the graupel was driven by gusty winds that peaked around 30 mph at times.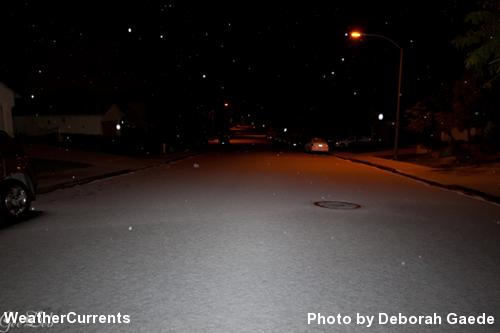 Hail and graupel on a South Temecula street about 1am March 18th (courtesy Deborah Gaede)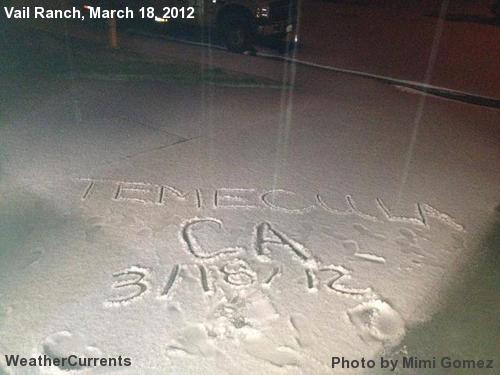 Hail and graupel on a South Temecula street about 1am March 18th (courtesy Mimi Gomez)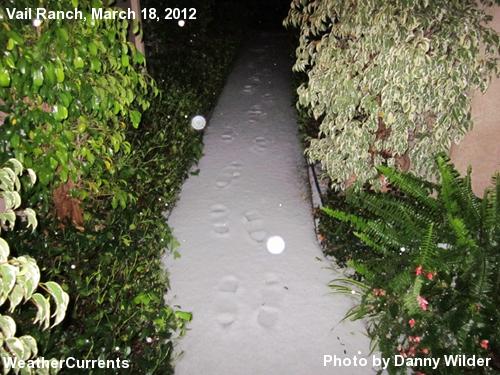 A walkway in Temecula covered in graupel about 1am March 18th (courtesy Danny Wilder)