By John C. Toman. Posted July 8, 2012, 5:11 PM.
---

That didn't take long. About two weeks after summer's official start, warm weather is about to turn to hot.
High pressure over the four corners area is expanding westward over the next few days, and it will bring some heat with it. Much of the rest of the nation is sweltering already.
Wednesday and Thursday are looking to be the hottest days of the week, with high temperatures in the 90's to near 110°F across Southern California's inland valleys. That's between five and ten degrees above normal for this time of year.
Another summer staple, monsoonal moisture, will also make its first appearance of the season. Thunderheads should begin to build in the east Monday, increasing each day through Wednesday. At this point, thunderstorms aren't expected to venture west of the mountains, but could affect the San Gorgonio pass area and the San Jacinto Valley, especially on Wednesday.
For the rest of the inland valleys, increased cloudiness will mean elevated humidity along with the higher than normal temperatures.
Some selected highs for the week (predictions are as of Sunday afternoon): 108°F in Lake Elsinore, 107°F in Wildomar, 106°F in Menifee, 103°F in Hemet, Moreno Valley and Perris, 101°F in San Bernardino, Riverside and Jurupa Valley, 99°F in Murrieta, 98°F in Temecula and Beaumont, 94°F in De Luz, and 91°F in Fallbrook.
In inland Ventura County, Simi Valley was predicted to be a very warm 95°F.
The marine layer will still hang on near the coast, however. Areas just inland, such as San Diego's City Heights neighborhood, will also warm up, but shouldn't make it past the middle 80's.
Temperatures were expected to fall back to normal for next weekend.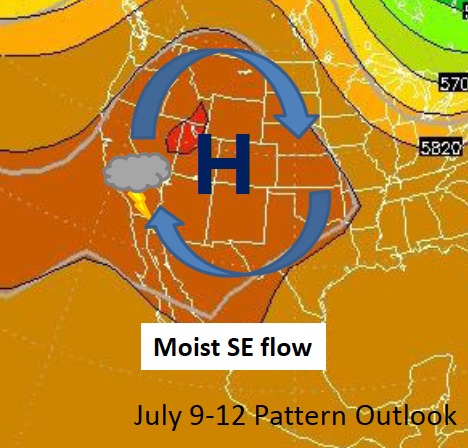 July, 2012 heat wave. Courtesy of National Weather Service.
Other Recent Weather News for San Bernardino, California