By John C. Toman. Posted February 12, 2012, 9:17 PM.
---

A weekend storm brought clouds and wind but not much rain to Southern California's inland valleys.
Most of WeatherCurrents' 17 locations had nothing measurable to report, in fact. The exceptions were Beaumont (Cherry Valley) (0.29"), San Bernardino (0.09"), Fallbrook (0.02"), De Luz (0.01") and French Valley (0.01").
East San Jacinto also reported 0.01" from a fast-moving shower (thanks Monty Parrott).
In San Diego County, WeatherCurrents' newest location in San Diego's City Heights neighborhood recorded 0.03", only one day after it was installed.
More cold, unsettled weather is on the way for Monday and perhaps again on Wednesday, courtesy of two additional cold fronts. Monday's storm should yield light to moderate showers, followed by a chance of thunderstorms, with rainfall amounts between a tenth and a quarter of an inch inland.
Winds will be strong Monday, especially over the mountains and deserts.
The timing and intensity of Wednesday's system remains uncertain. It may take an inside track, which would yield little, if any precipitation over Southern California. A more southerly track will lead to rain.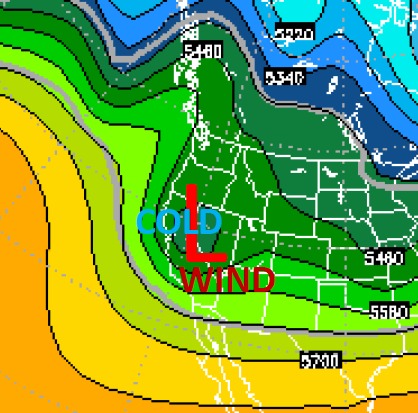 Weather pattern Monday and Tuesday (courtesy of National Weather Service)
Other Recent Weather News for San Bernardino, California