By Jim Purpura. Posted February 7, 2012, 10:13 PM.
---

Tuesday evening's rainfall has unfortunately been meager as forecast across much of the area.
However, for meteorologists, and the weather enthusiasts among us, it marks a first for Southern California: a newly installed radar system captured moisture from the storm.
The Dual Polarization upgrade to the National Weather Service Doppler Radar was installed last month in the Santa Ana Mountains, between Orange and Riverside counties. It's the first Doppler Radar in Southern California to feature this upgrade, otherwise known as "dual-pol".
The Santa Ana Mountains radar covers most WeatherCurrents communities in Southern California's inland valleys.
The radar appears to have performed well covering its first local storm today and tonight, demonstrating higher fidelity results.
The dual-pol radar alternates pulses sent in the horizontal and vertical planes, then compares the amount of energy the pulses return to the radar. Rain drops, which tend to be rounder, can be distinguished from snow, hail, ground clutter, and even from bats, birds and insects.
Here's a comparison image from about 9:15 pm Tuesday night. On the left is the Composite Reflectivity, the right is a new dual-pol product called Differential Reflectivity. The rain (in orange on the right) is easier to distinguish from ground clutter in the circled areas in Los Angeles County.
Note the lack of rain across the Inland Empire, which covers most of WeatherCurrents' current service area. Measurable rain didn't materialize at most of our stations, and the leaders (Fallbrook and De Luz) got only 0.03".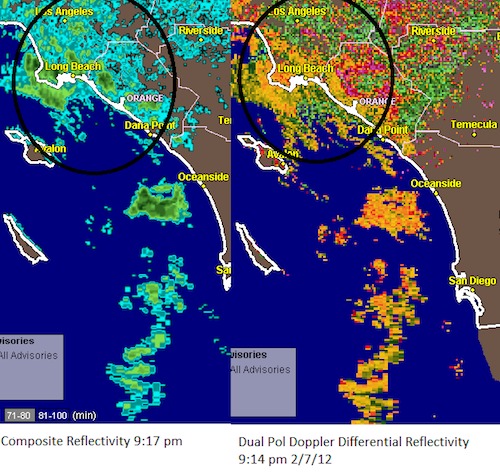 Dual-pol radar image on right (courtesy of National Weather Service)