By Jim Purpura and John Toman. Posted January 10, 2012, 7:32 AM.
---

Those who follow WeatherCurrents closely, and the San Bernardino WeatherCurrents station in particular, may have noticed that 1.52 inches of rain was reported at one point this past Sunday morning.
Could this be possible? Can you have rain in a Santa Ana (offshore) wind event?
Rain is unlikely in an offshore event (but possible), but that is not what happened in this case. The picture below shows the San Bernardino weather station. Note it is not a ground based station, but mounted on an antenna tower. The rain gauge equipment is mounted on the tower and is the white colored piece of equipment circled in red.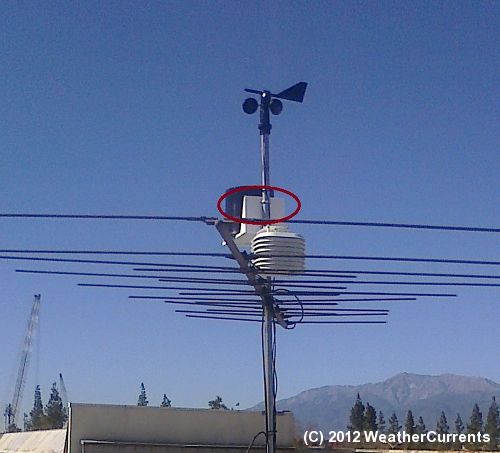 San Bernardino mast and rain gauge (© 2012 WeatherCurrents)
The San Bernardino gauge is a tipping bucket rain gauge. In extreme cases, these gauges may be sensitive to shaking. It appears that the wind, or more correctly, strong sudden wind gusts shook the mast and led to the false readings.
Note the WeatherCurrents archive for San Bernardino yesterday. It shows the hourly rainfall reported. Note the reported "rain" occurred when the winds were the most gusty.

False rain readings (© 2012 WeatherCurrents)
This is always the challenge when we look at remote sensing equipment. When looking at any automated observation, we need to decide:
are the instruments recording what is actually occurring, and if so,
is the observation representative of conditions in the general area?
Near term, what we do is correct debunked readings, usually by using a nearby station or, in some cases, manual rain gauges that are present at some of our sites.
This is not the first time winds gusts have led to faux "rain" at our San Bernardino location. So longer term remedy to the false readings will be to reinforce the mast with guy wire to prevent movement during strong winds. We'll be doing that in the next couple of weeks to try to prevent rain from registering during the next wind event, whenever that is.