By John C. Toman. Posted December 26, 2011, 12:49 PM.
---

A dry week is ahead for the last week of December, with no rain predicted until at least the first week of the new year.
The latest forecasts have temperatures running generally in the 70's this week, with a few high clouds and weak offshore flow later in the week.
But winds won't reach the damaging stage or even blow hard, as they have done a few times this month.
The predominant weather feature is high pressure, which will be weaker Monday and Tuesday due to a couple of fronts to the north, then strengthen again on Wednesday. High pressure is making for an un-winter-like start to winter.
"We'll start a little bit of a cool down [to start the week]. We don't see any big rain systems. Nothing very substantial," said Jim Purpura, meteorologist for WeatherCurrents. "No big soakers coming up for the week between Christmas and New Year's."
The high pressure pattern will seal this month's fate as drier than average. Through December 26th, rainfall for the month was only 0.87" in Temecula, 1.11" in Murrieta, 0.93" in Lake Elsinore, 0.64" in Hemet, 1.04" in Fallbrook, 0.61" in San Bernardino, 0.41" in Riverside, and 0.37" in Moreno Valley.
Last year at this time, Southern California's inland valleys had emerged from a week of rain, and 2010's December was the wettest on record.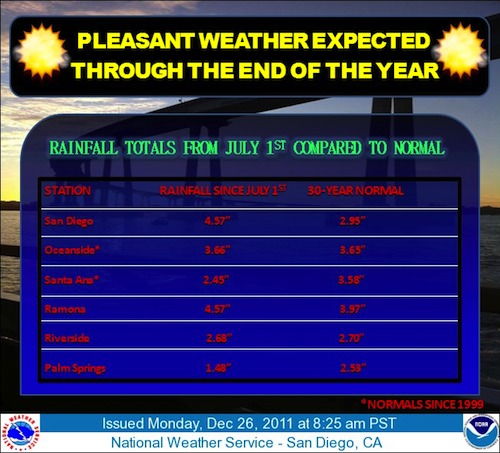 Pleasant days ahead (courtesy of National Weather Service)
Other Recent Weather News for San Bernardino, California