By John C. Toman. Posted November 7, 2011, 7:30 AM.
---

The second of two storms resulted in another rainy day on Sunday, leaving between 0.15" and 0.61" inches of rainfall in Southern California's inland valleys.
The storm started with a band of light to moderate rain, and finished with a thunderstorm Sunday night, with lightning in spots and hail, especially in the San Bernardino Valley.
"We enjoyed a spectacular lightning show which lasted a couple of hours," said Rick Leonard, of Beaumont, "along with some periods of hail and hard rain. At one point we had a brief power outage as well."
Lightning was reported across the region on Sunday evening.
At one point, hail was reported along Interstate 10 in San Bernardino County.
Hemet led the way this time with 0.61", marking the second storm in a row where rainfall was heavier to the east. Other large totals were recorded in Lake Elsinore (0.52"), Riverside (0.47"), Moreno Valley (0.46") and Beaumont (0.44").
San Bernardino (0.15"), Murrieta (0.16") and Wildomar (0.17") recorded the least amounts.
To the west Simi Valley recorded 0.40", nearly all of it in the early morning.
Other robust late morning / early afternoon totals were more to the south, in Fallbrook (0.33"), Menifee (0.26"), and Temecula (0.25").
The following rainfall totals were recorded Sunday and Monday morning:
| | | | |
| --- | --- | --- | --- |
| Location | Storm | Season | Source |
| East Hemet | 0.61" | 2.02" | WeatherCurrents |
| East San Jacinto | 0.57" | 2.26" | Monty Parrott |
| Lake Elsinore | 0.52" | 1.97" | WeatherCurrents |
| Riverside - Canyon Crest | 0.47" | 1.59" | WeatherCurrents |
| Moreno Valley | 0.46" | 1.71" | WeatherCurrents |
| Beaumont | 0.44" | 2.16" | WeatherCurrents |
| De Luz | 0.42" | 2.48" | WeatherCurrents |
| Simi Valley | 0.40" | 1.59" | WeatherCurrents |
| South Fallbrook | 0.33" | 1.73" | WeatherCurrents |
| South Fallbrook - Canonita | 0.33" | 1.65" | R.C. Blankenhorn |
| Temecula Valley Wine Country | 0.28" | 1.64" | Jim Sappington |
| Menifee | 0.26" | 1.26" | WeatherCurrents |
| South Temecula | 0.25" | 1.65" | WeatherCurrents |
| Perris | 0.25" | 1.27" | WeatherCurrents |
| French Valley | 0.21" | 1.42" | WeatherCurrents |
| Northwest Murrieta | 0.16" | 1.14" | WeatherCurrents |
| Wildomar | 0.17" | 1.24" | WeatherCurrents |
| San Bernardino | 0.15" | 2.12" | WeatherCurrents |
| East Murrieta | 0.14" | 1.08" | Reginald Stanley |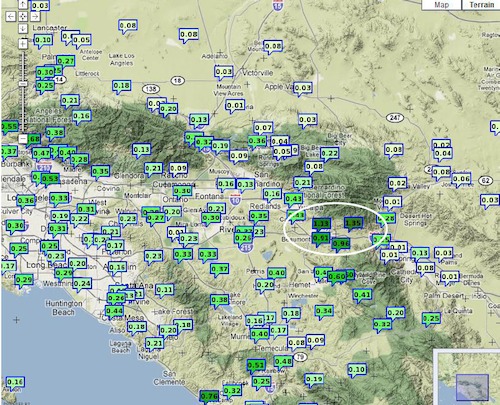 Inland storm totals (courtesy National Weather Service)