By John C. Toman. Posted August 14, 2011, 10:24 PM.
---

Following the first half of August, which has run slightly under normal, this coming week will feature slightly above normal heat in Southern California's inland valleys.
High pressure has been hovering over the southwest United States for much of the summer, and has been balanced out with low pressure over the west coast. This week, the low will weaken somewhat and the high will gradually expand westward.
The result should be less persistent morning marine layer and fog, vanishing altogether from most of Riverside and San Bernardino counties, and hotter days, especially in the middle of the week. High pressure will also scoop in some monsoonal moisture from the Gulf of Mexico, and that could lead to some afternoon and evening thunderstorms over the mountains and deserts on Wednesday and Thursday.
Some sample predicted highs for the middle of the week: 99°F in Hemet, 97°F in Riverside, 94°F in San Bernardino, 93°F in Temecula, and 83°F in Fallbrook.
For the first half of the month, average high temperatures were three degrees below normal in Fallbrook, two degrees below normal in Temecula, Murrieta, Riverside, and De Luz, and one degree below normal for Lake Elsinore, Menifee and Hemet.
Temperatures are currently predicted to revert back to slightly under normal for next weekend.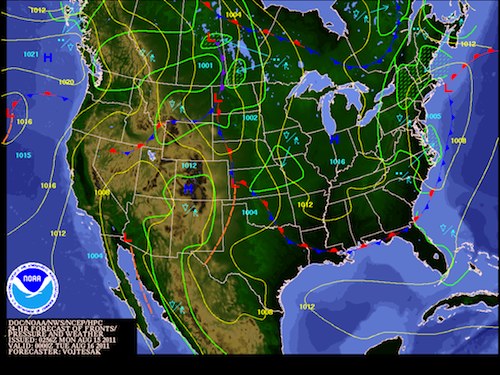 Weather map for Monday, August 15, 2011 (National Weather Service)
Other Recent Weather News for San Bernardino, California