By John C. Toman. Posted July 31, 2011, 11:15 AM.
---

Numerous thunderstorms developed overnight and made for a very busy morning in Southern California's inland valleys, with the first significant rain of the summer falling.
Scattered showers and thunderstorms were continuing to move northward in the late morning. Localized flooding was possible with the latest convection band. Showers at the coast were possible, according to the National Weather Service. Activity was expected to decrease this afternoon and evening, with most thunderstorms over the mountains and deserts.
The National Weather Service has a flash flood watch in place for the mountain and desert areas through 8pm Sunday night.
Of WeatherCurrents' sixteen stations, Hemet received the most as of 11am, with 0.34" on the ground. Due to proximity to the San Jacinto Mountains, Hemet often gets the most rainfall in the summertime.
The rainfall began with small bursts shortly after midnight, according to Reginald Stanley, who recorded rainfall at 12:20am in Eastern Murrieta.
"Very big lightning is setting off car alarms!" said Robert Leonard in Hemet. Heavier rain was falling there in the 10am hour.
"When I got up at 5 a.m. it was pouring rain," said Katy Parkhurst in Sun City. "During the night I'd heard noises but dismissed it, guess it was raining then, too."
Other significant rainfall totals were in Menifee (0.21"), Riverside and De Luz (0.20"), Temecula (0.16"), French Valley (0.14"), San Bernardino (0.12") and Lake Elsinore (0.10").
Although thunderstorms were possible there, rain had yet to be recorded to the west at WeatherCurrents' Simi Valley station.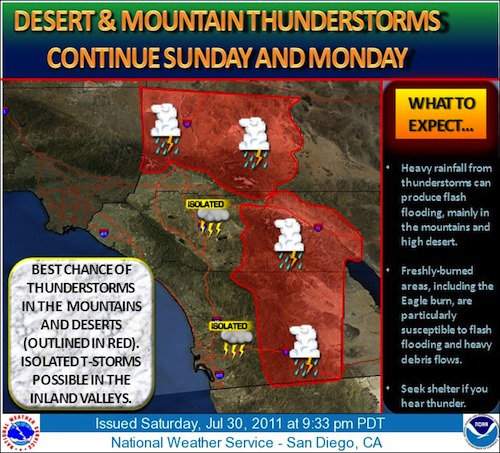 July 31st graphical forecast (courtesy of National Weather Service)