Posted July 2, 2011, 6:17 PM.
---


Summer has wasted no time asserting itself, as a heat wave sent many inland communities over the triple digit mark Friday and Saturday.

Wildomar's Saturday mark of 107°F was the hottest of the year among fifteen WeatherCurrents stations. It was closely followed by Lake Elsinore at 106°F. Beaumont (102°F), Hemet (102°F), Menifee (103°F), Moreno Valley (102°F) and Perris (102°F) also topped one hundred degrees.

Friday had featured the first triple digit days of the year in Murrieta (100°F) and San Bernardino (100°F).

Temecula, Riverside, Simi Valley, French Valley, Fallbrook and De Luz are the only communities in WeatherCurrents' Southern California network to not yet reach the 100°F mark.

The heat wave was the second of the young summer. The first was from June 20th to 22nd, and was several degrees milder.

More heat was predicted for Sunday, along with the arrival of the first monsoonal moisture of the season. Thunderstorms were expected to be restricted to the mountains and deserts, but there was a slim chance of showers in easterly areas such as Hemet and Beaumont.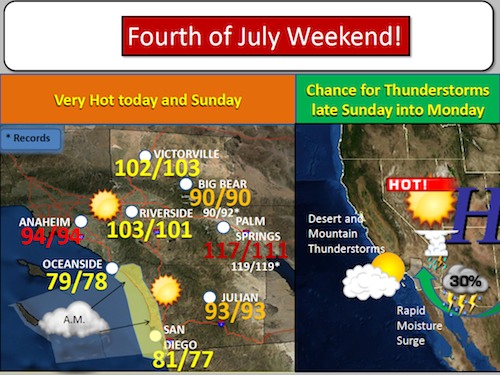 July 4th Weekend Forecast (National Weather Service)
Other Recent Weather News for San Bernardino, California