Posted June 18, 2011, 1:23 PM.
---


As the spring season wanes, mother nature is having trouble deciding which season it ought to be.

Southern California's inland valleys, normally warm and dry by this time of year, are instead being subjected to teases of warm weather, while long periods of morning marine layer and mild temperatures keep on coming, like they have for the entire spring.

The current weekend is no exception. Strong onshore flow, morning and afternoon clearing inland, little or no clearing at the coast, and decidedly cooler than normal temperatures, about ten degrees lower than normal.

June in fact, has been running significantly cooler than normal to date. Here's how cool, based on daily high temperatures, through Saturday, June 18th:
| | | | |
| --- | --- | --- | --- |
| Community | June 2011 High | June Ave High | Difference |
| De Luz | 73°F | 79°F | -6 |
| Fallbrook | 73°F | 78°F | -5 |
| Hemet | 79°F | 87°F | -8 |
| Lake Elsinore | 82°F | 90°F | -8 |
| Menifee | 79°F | 88°F | -9 |
| Murrieta | 76°F | 82°F | -6 |
| Riverside | 77°F | 85°F | -8 |
| Temecula | 75°F | 83°F | -8 |
Note: only WeatherCurrents communities with five or more years of data are listed.
Summer officially begins on Tuesday, at 10:16am, with the summer solstice.
In timing with start of summer, warmer weather is on tap, at least for the middle of next week. There will be a lot more sunshine, and temperatures will range from the lower 80's in Fallbrook and De Luz, to the middle 80's in the Temecula Valley, to the upper 80's and lower 90's in Lake Elsinore, Wildomar, Hemet, Menifee, Perris, Moreno Valley, Riverside, San Bernardino and Beaumont.
The major culprit for our cooler-than-normal weather this spring has been a southerly jet stream. It's led to plenty of spring rain in Central California, and has kept any major high pressure systems from getting established in Southern California.
And the cooler-than-normal weather isn't done yet. Next week's warm weather is currently forecast to give way to another mild pattern next weekend.
So summer will arrive, and perhaps sometime soon, the heat we normally associate with it will, too. But not just yet.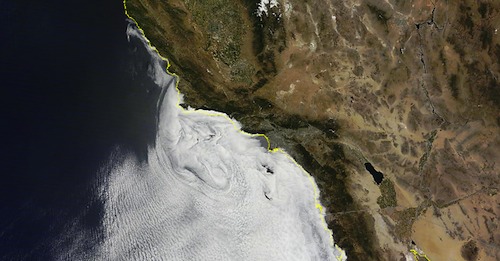 NOAA Terra satellite image (MODIS) depicts the coastal eddy circulations south of Pt. Conception. June 15, 2011.
Other Recent Weather News for San Bernardino, California