Posted March 4, 2011, 4:00 PM.
---


A round of warmer weather will be the rule through the next week in the inland valleys, interrupted by a March's second storm system Sunday night and Monday.

In the wake of a weak storm that came through Wednesday night and Thursday morning, afternoon temperatures are expected to rise to between the middle 70's to near 80°F in many inland locations for Saturday, about as warm as it was today.

Today's warmest location was Riverside, at 84°F. Murrieta, Lake Elsinore and San Bernardino recorded high temperatures of 79°F.

The late weekend storm will lead to temporarily cooler weather, clouds, wind gusts and a chance of scattered showers Sunday night through Monday. There's a decent chance of rainfall, but it won't amount to much; less than 0.15" in most locations. It will be windiest in the desert areas.

The weak storm earlier this week did not leave measurable rainfall at any of WeatherCurrents' 15 locations, although there was some rainfall recorded in Orange County, at the Riverside Municipal Airport, and in portions of the San Bernardino Valley (Ontario and Chino), as well as the mountain areas.

The warm weather pattern is currently expected to resume Tuesday into the middle of next week.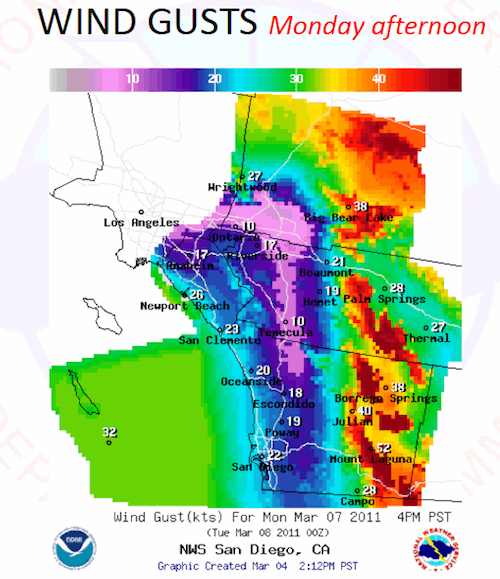 Wind Gusts for Monday, March 7th (courtesy of National Weather Service)
Other Recent Weather News for San Bernardino, California