Posted February 22, 2011, 4:45 PM.
---


The latest forecasts for a very cold winter storm expected this coming weekend include a possibility of snow at very low elevations (down to 1,000 feet) that could bring light snowfall to places like Temecula and Murrieta, Lake Elsinore, Wildomar, Hemet and San Jacinto, Riverside and San Bernardino, Beaumont, Menifee, Moreno Valley, Perris and De Luz.

"The Inland Empire might have a snow level down to 1,000 feet Friday night or Saturday," said Jim Purpura, meterologist-in-charge with the National Weather Service, San Diego "We're still looking at that. If that happens, Temecula (and most of the inland areas) would get a dusting of snow. Stay tuned for updates."

The storm, originating from the arctic and in the region Thursday through Saturday, is predicted to be mostly showers with some thunderstorm potential. Only light precipitation is expected Thursday, with more on Friday and the main part of the storm on Saturday night. Scattered thunderstorms are possible Saturday and Saturday night. Total precipitation for the storm currently looks to be between a half and three quarters of an inch in most locations.

Snow levels are currently conservatively set at the 2,000 feet level for Friday and Saturday nights, an elevation which would mean snow for Beaumont and Banning, in the San Gorgonio pass area. Some convection could drop snowfall even lower. Snow levels just before the storm should be near 5,000 to 6,000 feet.

Currently, the only WeatherCurrents station under 1,000 feet is in Fallbrook, at about 690 feet.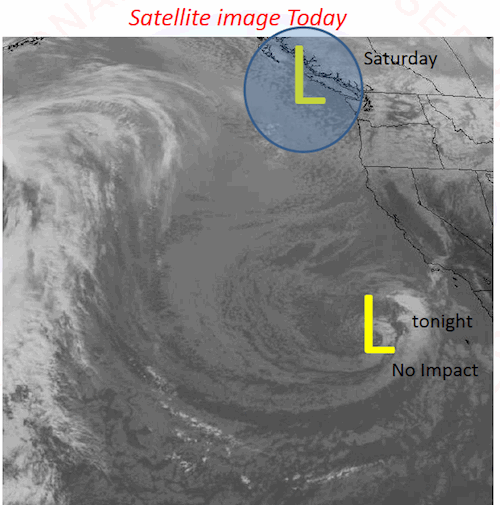 Low pressure system locations on Tuesday (courtesy National Weather Service)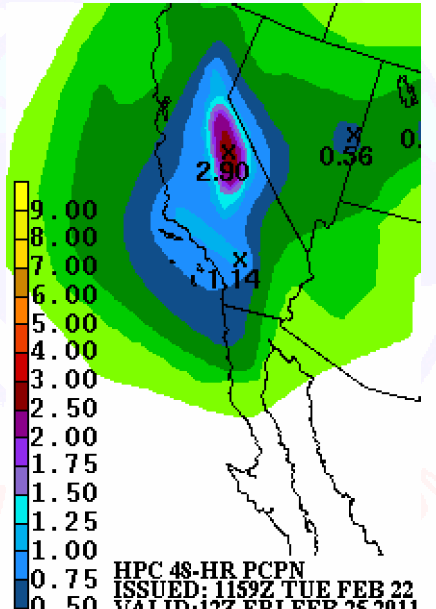 Southern California Precipitation Predictions for February 25th-26th, 2011 (courtesy National Weather Service)
Other Recent Weather News for San Bernardino, California