Posted February 18, 2011, 10:32 PM.
---


A strong winter storm arrived Friday evening in the the inland valleys, with heavy rain and winds on Friday night, another strong wave Saturday night, and showers and thunderstorms possible between the two.

The storm consists of two cold fronts, with the jet stream dropping south far enough to drag both of them through in succession. Unstable air between them on Saturday will keep showers and thunderstorms going. The chance of scattered thunderstorms begins later Friday night, after the first cold front sweeps to the east. A chance of some hail on Saturday was also in the latest National Weather Service forecasts.

The latest predictions show rainfall totals between one and three inches for the storm in the inland valley areas, with higher totals predicted for mountain slopes.

Snow levels in the local mountains were at 6,500 feet Friday night, expected to fall to 3,500 feet by mid-day tomorrow, and then to 3,000 feet or under Saturday night.

As the first wave came though on Friday, at 10:30pm, rain totals had already exceeded one inch at two WeatherCurrents stations, Murrieta (1.31") and Wildomar (1.06"). Heavy rain had also fallen in De Luz (0.86"), Menifee (0.78"), Lake Elsinore (0.73"), Fallbrook (0.72"), Beaumont (0.71"), Perris (0.66"), and Temecula (0.64").

Rain was not nearly as heavy in Moreno Valley (0.21"), Riverside (0.28"), San Bernardino (0.29") , Hemet (0.33") and San Jacinto (0.37").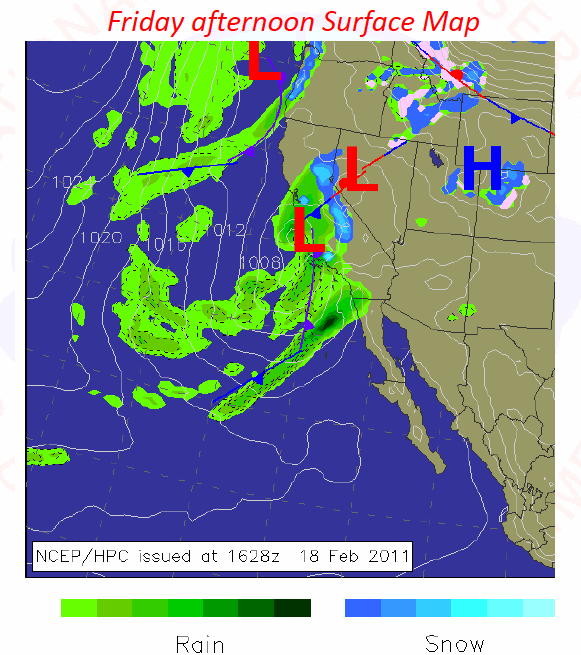 Friday Evening Storm Pattern (courtesy National Weather Service)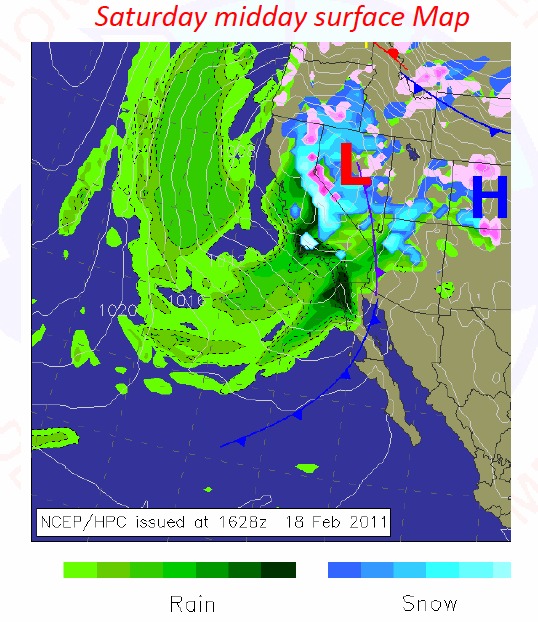 Saturday Storm Pattern (courtesy National Weather Service)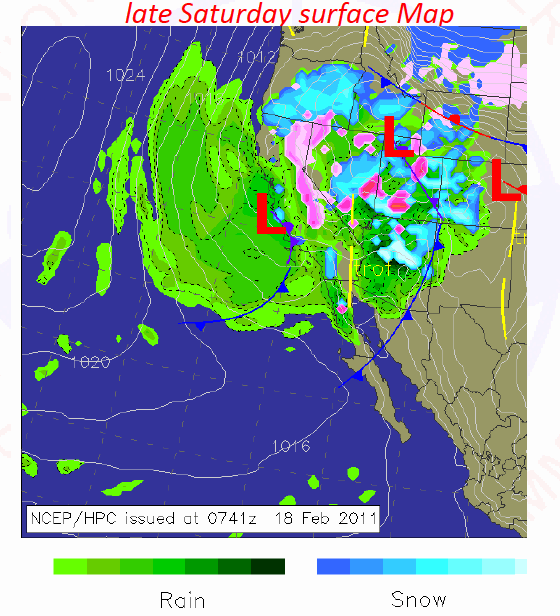 Saturday Evening Storm Pattern (courtesy National Weather Service)
Other Recent Weather News for San Bernardino, California