By Jim Purpura and John Toman. Posted January 6, 2012, 1:06 PM.
---

Get ready for more dry, cool offshore winds this weekend, as January continues to look like this past December.
A cold high pressure area will move into the Great Basin region by the end of the weekend. Around the same time, a trough of low pressure, another aptly-named inside slider, will drop from Oregon towards Nevada and Utah.
The resulting weather will be a period of strong offshore winds, beginning Saturday night. Winds may gust from 55 to 65 mph in favored areas such as the Cajon Pass, Banning Pass, and Fremont Canyon. Across much of the inland valleys, predictions are for gusts from the northeast at 40 to 45 mph in the northern Inland Empire (San Bernardino and Riverside metropolitan areas), and in the 20 to 30 mph range across Southwest Riverside County and North San Diego County.
The strongest winds are currently expected to begin late Saturday night or early Sunday morning, and last through early Sunday afternoon. Weaker offshore winds could return late Wednesday into Thursday.
The National Weather Service has issued a pair of watches for the weekend. The first is a fire weather watch for Sunday, and the second is a high wind warning, also for Sunday.
Two recent inside sliders in December caused damage. The first, on December 1st, caused damage from the Cajon Pass to L.A.'s beaches. The second, on December 16th, felled trees, spurred a dust storm, and led to sporadic power outages in the San Jacinto Valley.
Remember to check back with WeatherCurrents for updates when the winds begin to blow. Our weather observations are updated every minute.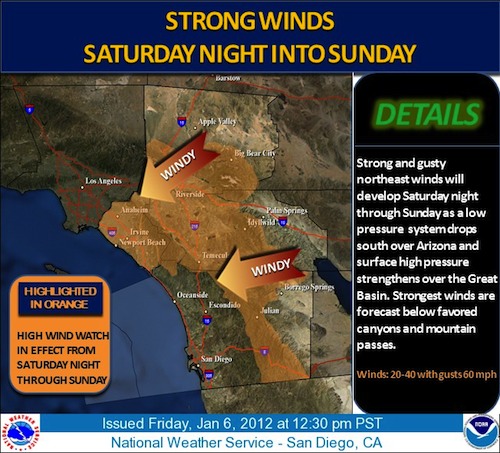 Strong offshore winds this weekend (courtesy of National Weather Service)
Other Recent Weather News for Jurupa Valley, California